The MLB offseason is just about over. Who won, and who lost?
With spring training officially underway, the MLB offseason has all but come to a close. Only one key name, Kyle Lohse, is still on the open market. Everyone else is settling in with their respective teams and slowly beginning the spring training process. As we prepare for the upcoming season, let's reflect on the biggest winners and losers in the 2012-13 offseason.
Winners:
10. San Francisco Giants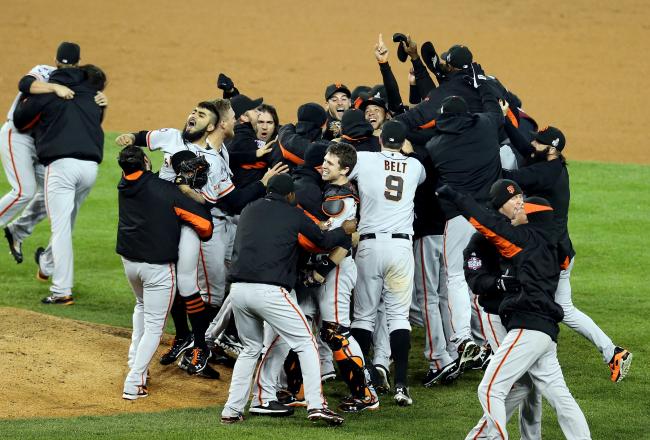 There were no major moves made here, but the reigning World Series champions are coming into spring training with 21 of the 25 players from their championship run. That's a win. They'll be looking to use that team chemistry that has won them two of the past three World Series championships to make another deep run this October.
9. Seattle Mariners
For starters, with the Astros moving into the AL West, the Mariners will not come in last in the division, so there's that. Not to mention bringing in Kendrys Morales, Mike Morse, Raul Ibanez and Jason Bay to help bolster their offense.
8. Boston Red Sox
Bye-bye. Bobby V. If that's not enough of a win for the Red Sox, add in the fact that they acquired outfielders Shane Victorino and Jonny Gomes, catcher/first baseman Mike Napoli, starter Ryan Dempster and closer Joel Hanrahan. Pretty much all they had to sacrifice to bring in these players was outfielders Cody Ross and Jerry Sands.
7. Felix Hernandez
Cha-ching! The 26-year-old veteran got a payday this winter, worth about $175 million over 7 years, even if that means spending the next seven seasons with the Mariners.
6. Cleveland Indians
Under new manager Terry Francona, the Indians look like a completely different team, adding Nick Swisher, Mark Reynolds, Michael Bourn and Drew Stubbs, whom they acquired from the Reds in exchange for Shin-Soo Choo. Cleveland also received pitching prospect Trevor Bauer in that deal, somehow only having to give up minor-league shortstop Didi Gregorius.
5. Josh Hamilton
Texas seemed to hate him, so its understandable that he would want to leave. Not only will he be making $133 million over the next five years, he will do so while in the same lineup as Albert Pujols, Mike Trout and Mark Trumbo.
4. Atlanta Braves
Despite Chipper Jones' retirement, Atlanta made quite a splash in the 2012-2013 offseason, bringing in both of the Upton brothers. B.J. was signed by the Braves in October as a free agent, and younger brother Justin was acquired in a trade from the Arizona Diamondbacks. Third baseman Chris Johnson also came over in the trade that sent utility man Martin Prado, pitching prospect Randall Delgado and two other minor-leaguers.
3. Washington Nationals
The defending NL East champs didn't need to make a whole lot of changes, and yet they managed to improve. One-time ace Dan Haren was brought in to round out the rotation, and speedy outfielder Denard Span was added via trade from the Minnesota Twins in exchange for pitching prospect Alex Meyer. Washington appears to be on track to improve upon their win total from last year, which was a whopping 98.
2. The city of Los Angeles
Despite compiling an abundance of talent in both clubhouses, the Dodgers and Angels both narrowly missed out on the postseason, leaving Angelenos quite disappointed. This offseason, both clubs have added a couple of key pieces that could catapult them into October in 2013. For the Dodgers, it was veteran pitcher Zack Greinke and rookie Korean pitcher Hyu-Jin Ryu. For the Angels, it was super-slugger Josh Hamilton, veteran pitcher Jason Vargas and closer Ryan Madson. The entire city of Los Angeles has something to look forward to come April.
1. Toronto Blue Jays
It's clear the Blue Jays want to win NOW. And with the Yankees and Red Sox in an uncharacteristic period of relative mediocrity, what better time to throw all the chips on the table than right now? Toronto had to part with some top prospects, most notably Travis d'Arnaud and Adeiny Hechavarria, but were able to receive several huge pieces in return: Jose Reyes, Emilio Bonifacio, Josh Johnson, Mark Buehrle, and R.A. Dickey. The high-risk, high-reward signing of Melky Cabrera can have a big impact, too. It's been a while since the Toronto Blue Jays have been linked to the words "AL East favorites." It's kind of refreshing.
Losers:
10. Pittsburgh Pirates
They may have made a couple of signings this winter, i.e. Russell Martin and Francisco Liriano, but they also made one of the most inexplicable trades of the offseason, moving star closer Joel Hanrahan to the Red Sox. All they got in return was a package of four mediocre players and prospects, headlined by Jerry Sands, a former outfield prospect who has yet to pan out.
9. New York Yankees
Losing Swisher, Ibanez, Martin, Chavez and Andruw Jones will prevent the Yankees from being the offensive powerhouse that they have been for so long.
8. Giancarlo Stanton
Miami has completely depleted its roster this offseason, leaving superstar Giancarlo Stanton in a position where he will have to but in all the 1-8 spots in the lineup if they want to compete. He's already publicly displayed his feelings for this situation, and I'm sure his feelings towards Jeffrey Loria won't be changing anytime soon.
7. Seattle Mariners outfield
Not that the Mariners had a bad offseason, but over the course of the winter, the M's were rumored to be linked to Josh Hamilton, Michael Bourn, Justin Upton and Giancarlo Stanton, among others. However, all they came away with was Raul Ibanez and Jason Bay.
6. James Shields
For the past seven years, Shields has been an integral part of one of the best pitching staffs in all of baseball in Tampa Bay and for at least the past four seasons, he went into spring training knowing that he could help his team get to the playoffs. Now, after being shipped of to Kansas City, it's probably hard for him to believe that his team can really go anywhere. Who would choose to play for the Royals?
5. Houston Astros
If this team wasn't bad enough last year, winning only 55 games in the mediocre NL Central, how bad is this team going to be in maybe the toughest division in baseball? Have fun going up against Hamilton, Trout, Pujols, Cruz, Beltre, Kinsler, Cespedes, Reddick and Chris Young. Over/under: 35 wins?
4. Texas Rangers
If losing superstar outfielder Josh Hamilton wasn't bad enough, the Rangers have to face him 19 times in 2013. Hamilton signed with the Angels, Texas' arch-rival and likely their biggest threat to their winning the AL West. Additionally, Texas swung and missed on several big-time players, such as Justin Upton and Zack Greinke, as well as trading in power-hitting catcher Mike Napoli for an older model (A.J. Pierzynski).
3. Alex Rodriguez
January 2013 may have been one of the worst months of A-Rod's playing career-- maybe even his life. First, A-Rod had surgery on his hip that will likely keep him off the field for at least half of the season. Then, only a couple of weeks later, reports came out that he was once again linked to a medical clinic that distributed performance-enhancing drugs.
2. Kyle Lohse
We are well into Spring Training now, but Kyle Lohse is nowhere to be found. The only big name left on the open market, Lohse has yet to even bring about many rumors as to which teams are interested in signing him. I know teams may not want to give too large of a contract to a 34-year-old, who hasn't proven he could be effective year in and year out, but it's mid-February. Come on, now.
1. The city of Miami
Jeffrey Loria and Miami are gaining steam on LeBron James and Cleveland in terms of being unanimously despised by a particular city. Last year, Loria went out and spent a ton of money bringing in names such as Jose Reyes, Mark Buehrle and Carlos Zambrano, only to rid of these players, among many others, only a year later. Having decimated the entire Marlins roster, Loria won't be getting any love letters from the fans. Sorry Miami, at least you have the Heat.
Opening day is less than two months away, and I know Blue Jays fans are ready. Marlins fans? I'm not so sure.