Six of our staff writers (Desmon, Anthony, Chris, Seth, Harris and Tim) each submitted a top 10 list in each of the sports that they cover. From there, a collective list was created for each of the four major professional sports leagues (NBA, NFL, MLB, NHL).
Twenty-two different MLB players made an appearance on at least one list, more than any other sport. 19 NFL players were mentioned, 17 NHL players and only 15 NBA players.
Here are the final lists for each sport:
NBA (Desmon, Harris, Tim)
1. LeBron James
The best two-way player in the game. Dominates on both ends of the floor, and seems to keep getting better. LeBron is the consensus #1 overall player in the NBA.
2. Kevin Durant
The undisputed scoring champion, KD appeared in the top three of every list. He has taken his game to new heights this year in Russell Westbrook's absence.
3. Chris Paul
CP3 is widely considered the best point guard in the league, and has quickly turned the Clippers into championship contenders.
4. Paul George
George is emerging as one of the elite two-way players in the game, and may even continue to climb this list in the next few years.
5. James Harden
Harden has turned into one of the most prolific scorers in the NBA, especially with his ability to get to the foul line. He attempts more free throws per game than any other guard.
6. Stephen Curry
Arguably the best shooter in the league, Curry does much more than just shoot. He is on the only player in the league with 20+ PPG and 8+ APG.
7. Kevin Love
Love is one of four players with at least 20/4/4 on the season (James, Durant, Curry), and is in the top five in both scoring and rebounding.
8. Carmelo Anthony
Melo was the player with the least consistency in terms of his ranking. He is still one of the strongest scorers in the NBA, and has had to take on the majority of the workload for the Knicks.
9. LaMarcus Aldridge
Much like that of his team, the Portland Trailblazers, Aldridge's terrific season has flown a bit under the radar. In the midst of an MVP-caliber season, Aldridge has found himself in the top ten in scoring and rebounding.
10. Anthony Davis
In only his second season, Davis has exploded onto the scene, proving to be an electric post scorer as well as a dominant rim protector.
NFL (Desmon, Seth, Harris, Tim)
1. Peyton Manning
Manning was another unanimous #1 choice among the staff writers. Coming off of his fifth MVP award and his third Super Bowl appearance, Manning is showing no signs of slowing down, even at 37.
2. Aaron Rodgers
Despite an injury-plagued 2013 campaign, Rodgers has still shown to be an elite quarterback whose presence on the field alone can change the outcome of any game.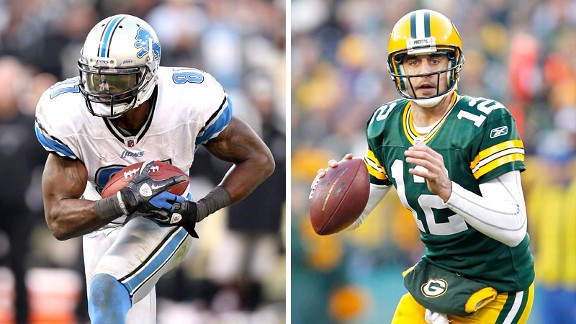 3. Calvin Johnson
The most unstoppable weapon in the league right now, Megatron continues to out-perform himself year in and your out, putting up his career high in yards/catch in 2013.
4. Jamaal Charles
Was 1,900 all-purpose yards in 2013 enough to pass Adrian Peterson as the league's top running back? According to our writers, the consensus is yes.
5. Drew Brees
Brees bounced back from a mediocre 2012 campaign to re-gain a spot in the group of elite quarterbacks.
6. JJ Watt
Watt was the only defensive player to receive a top-five vote, despite having a slightly down season, at least based on his standards.
7. Tom Brady
Tom Terrific is not the QB he once was, but he can still run an offense better than most. He did enough with a poor cast of receivers this past year to remain an elite football player.
8. Adrian Peterson
AP may have regressed a bit in 2013, but his dominance is still pretty apparent, and he remains one of the top ten NFL players.
9. Richard Sherman
He would likely be number one on a trash talking list, but the best shutdown corner in the league still creeps into the top ten overall.
10. Jimmy Graham
It's strange to see a tight end mentioned with the league's best, but Graham is a game-changer and is a legitimate number one weapon.
MLB (Chris, Seth, Harris, Tim)
1. Miguel Cabrera
The only non-consensus #1 overall pick. Cabrera finished first in two of the four ballots, but second in the other two. With back-to-back MVP awards and a Triple Crown, it's hard to deny Cabrera the title of "best hitter in baseball."
2. Mike Trout
There's no denying that Trout is a rising superstar who can make plays with his bat, with his glove and on the base-paths. Has he done enough to surpass Miguel Cabrera as the best player in baseball? Our writers say no.
3. Clayton Kershaw
With two Cy Young Awards in the past three seasons, there's no denying that Kershaw is the best pitcher in the game. And he got paid like it.
4. Andrew McCutchen
The reigning NL MVP Award winner is proving to be one of baseballs best all-around players, with two straight 20-20 seasons and a gold glove in 2012.
5. Paul Goldschmidt
Goldschmidt is quickly emerging as one of the league's most dangerous hitters. If he continues to improve at this rate, he could climb this list rapidly.
6. Felix Hernandez
Felix has been consistently great for five years now, and has done so against a very tough AL West. He seems to be proving that he was worth that monster contract.
7. Yu Darvish
Darvish lowered his ERA by over 1.00 this past year, and appears likely to continue to improve. A Cy Young Award may be in his near future.
8. Robinson Cano
Cano may not be able to produce the same power numbers in Seattle as he did in New York, but there's no denying that he's still one of the premier hitters in all of baseball.
9. Troy Tulowitkzi
When healthy, Tulo can still flat out hit. He has gone 25+ and .300+ each of the last three seasons in which he has played more than half of the games.
10. Joey Votto
While he hasn't quite been the 2010, MVP-winning Joey Votto as of late, but he is still in the elite group of hitters. Five straight seasons with an OBP above .400 prove that to be true.
NHL (Anthony, Chris, Harris)
1. Sidney Crosby
Another unanimous decision, Crosby is the NHL's clear-cut top player. Excellent on all fronts.
2. John Tavares
Tavares does everything you can look for in a hockey player, and has been a one-man team for the lowly Islanders.
3. Ryan Getzlaf
One of the better two way guys in the league, Getzlaf is +23 without winger Bobby Ryan. He has been one of the elite goal scorers the past two years.
4. Alexander Ovechkin
Ovechkin is still one of the best offensive players in the league, but can be a bit lazy defensively.
5. Patrick Kane
Kane is in the top five in points for the second straight year. He finished as high as second one of the lists.
6. Pavel Datsyuk
Datsyuk is one of the better two-way players in the league. He does everything well. Datsyuk also finished second on one of the lists.
7. Jonathan Toews
Toews is a great all around player; there is simply nothing the guy can't do. He is the leader of a Blackhawks team that has won two cups.
8. Steven Stamkos
Stamkos is the best pure goal scorer in the league, and is continuing to improve.
9. Evgeni Malkin
Overshadowed a bit by Crosby, but Malkin still has the better shot.
10. Corey Perry
Perry has become one of the top goal scorers in the league, finishing in the top 10 three of the last four seasons.