Young, athletic point guards are taking the NBA by storm. It's the start of a new era.
The foreseeable future of the National Basketball Association looks to be filled with unparalleled athleticism, explosiveness and fast-paced play.
Who is to thank? The young point guards.
If you want to call them that.
The position has really transformed in recent years. Even five or 10 years ago, a point guard was someone who brought up the ball, ran the offense and set up teammates to score. From Oscar Robertson and Bob Cousy to Magic Johnson and Isiah Thomas to Steve Nash and Jason Kidd, no matter how well these point guards could score, they always looked to pass first and facilitate the offense. That was their role.
This is not the case anymore. The basketball world has seen a sudden transition to point guards who are off-the-charts athletically and look to score before all else. Essentially, they are shooting guards trapped in a point guards body.
And this trend is only on the rise.
There are five players at the forefront of this movement: Russell Westbrook, Derrick Rose, Stephen Curry, Kyrie Irving and Damian Lillard.
All five of them stand at roughly 6'3" and are therefore too small to realistically play the shooting guard spot, at least from a defensive standpoint, on a consistent basis.
Even though they've all been in the league five years or less, everyone in this group except Lillard has had one or more seasons with at least 20 points per game on at least 44% shooting.
To be fair, though, in his only season so far, Lillard put up 19 points per game on 43% from the floor.
Of course they still pass and run the offense-- all but Irving have averaged more than six assists per game over the course of one season-- but where they help their teams the most is creating offense for themselves.
The unprecedented athleticism and explosiveness that each of these guys possess is truly remarkable.
As a result, they are slowly pushing the Jose Calderon's and Andre Miller's of the world out of basketball. Well, out of a starting job, at least.
Of course, there are exceptions. Rajon Rondo and Ricky Rubio are the two best examples of point guards under 30 who look to set up teammates before doing anything else.
You also have the group that includes guys like Chris Paul, Deron Williams and Tony Parker, who have mastered the combination of score-first and pass-first. This kind of player looks to be dying out, however. At least at the elite level.
What we are left with is the guards who have the skill set of a 2-guard but the size of a point. All five can probably play both. Scratch that. They can definitely play both, if need be.
It may not be fair to categorize these players as combo guards, however. The term "combo guard" has a connotation of being a decent role player off the bench who struggles to find his true position.
This is not the case with any of these guys, by any means.
They harness their inhuman ability to simply put the ball in the hoop and help lead their respective teams as one of the go-to guys.
Still, this categorization is very much up for debate.
They still can be considered true point guards, since there is no clear-cut definition of a true point guard. And all of these guys can run the offense. Better than most, in fact. It's just not their biggest strength.
Call them what you want, it really doesn't matter.
No matter what you call them, there is no denying their growing presence in professional basketball.
Other players that somewhat fall into this category are Brandon Jennings and John Wall, with collegiate athletes Marcus Smart and C.J. McCollum ready to join them in the next year or two.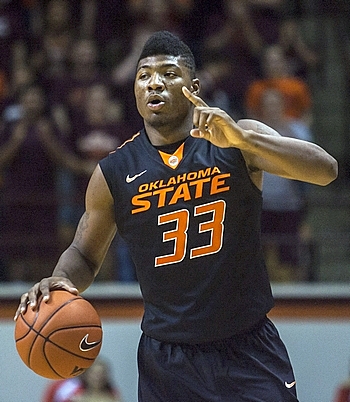 And after the dominance of power forwards in the early- to mid-2000's (Duncan, Garnett, Webber, J. O'Neal, Nowitzki) and the reign of swingmen in recent years (James, Bryant, Durant, Anthony, Pierce), point guards are ready to take over.
They are rapidly taking the NBA by storm.
And it looks as though they will be providing us with a lot of exciting basketball for years to come.