With the NBA season so close, which match-ups are you most excited for?
The NBA season is less than 15 days away. I think I can speak for every NBA fan old, or young when I say excited is not even the word. We will be treated to some great games this upcoming seasons, some with lingering rivalries, and others who might just be starting their own. Then you have some familiar faces in some new places. So to add on to the hype, lets take a look at the top ten match-ups for the 2012-13 NBA season:
Honorable Mention:
New York Knicks vs Denver Nuggets (March. 13th)- This game is more prime time than people tend to think. The Knicks are a heavy talent in this league, and they will do battle with a Denver team who have made a name for themselves. Most notably with last season's success and this off season making moves landing one of the NBA's premeire athletes, and players in Andre Iguodala. However the main headline in this game has to be Carmelo Anthony's return to Denver. He has yet to play a game in his old stomping ground since being traded to NY. I wonder what kind of greeting Melo will receive from the people of Denver.
Oklahoma City Thunder vs San Antonio Spurs (Nov. 1st)- This rematch of last season's Western Conference Finals should be a great one. All the headlines are in place for this game starting with the continued rise of superstar Kevin Durant, and his talented teammates. Does age matter to Tim Duncan, Manu Ginobli, Tony Parker and the rest of the Spurs squad? Add in the revenge factor for the Spurs (who many thought would reach the finals). This game should be a great clash between two of the top 5 teams in the Western conference.
Here is the Top 10: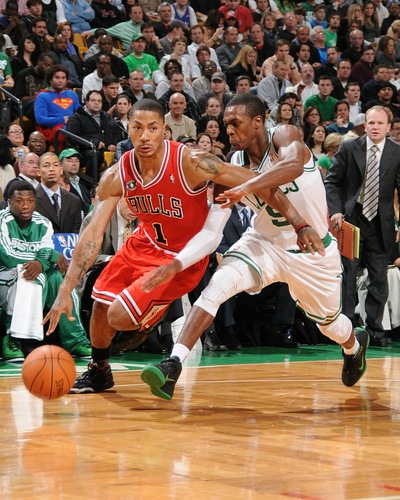 Number 10: Chicago Bulls vs Boston Celtics (Feb. 13th)- Now let me be clear this depends on the health of Derrick Rose. The desired match-up I chose is mid to late February which around the return date for Rose (tore ACL last postseason). If he is at 100% this is one of the most important games in the Eastern Conference. Many have Rajon Rondo, and his Celtics ranked second in the East right now. When healthy that 2 spot most likely belongs to Rose and his Bulls. At full strength these two teams give the defending champion Miami Heat the most problems in the Eastern Conference. Plus who doesn't want to see Rose vs Rondo?
Number 9: Los Angeles Lakers vs Boston Celtics (Feb. 7th)- Now just warning the the people who dislike Boston you'll be seeing them even more. Reason being no matter how you feel about them they are always talented, and have multiple rivalries. This match-up is as historic as they come when Boston plays Kobe Bryant, and the revitalized LA Lakers. Then you have a Steve Nash vs Rajon Rondo match-up, and most likely a healthy Dwight Howard on the court how could you not get excited for this match-up?
Number 8: Brooklyn Nets vs Miami Heat (Nov. 7th)- Another Eastern Conference clash between the defending champs, and the newly formed Brooklyn Nets. The Nets who haven't seen a prime time game in lord knows how long will see their share of those this season. Thanks to some heavy re-building from the franchise. The days of Lebron James, Dwyane Wade, and the rest of the Heatles showing up to man handle the Nets could be gone. I'm pretty sure Deron Williams has something to say about that now with his revamped arsenal. It just might get as competitive as we hope.
Number 7: Miami Heat vs New York Knicks (Nov. 2nd)- I guess the Heat can't get enough of New York. This game however always has people on the edge of their seats. Whether the game is played at MSG, or American Airlines Arena it's one of those games that attracts the most viewers even well before the playoffs. Add in the big match-up between Lebron and Melo you have yourself a prime time Eastern Conference clash.
Number 6: Los Angeles Clipper vs Los Angeles Lakers (Nov. 2nd)- It's one thing for two teams to share a city, and do battle (Knicks vs Nets). However when they are both highly talented, and share an Arena things get even more chippy. If you watched the battles they shared last season then you must be excited for this one. The brand new Lakers led by Kobe Bryant, and the on the rise Clippers led by Chris Paul will treat us to a prime time Western conference clash unlike any other. Plus we all remember what Blake Griffin did the last time (sorry Pau).
Number 5: Los Angeles Lakers vs Oklahoma City Thunder (Dec. 7th)- This is the battle for Western Conference supremacy at it's best. You have the Western champs of last season in OKC led by superstar Kevin Durant. In the other corner resident champion Kobe Bryant, and his Lakers. A heavy weight bout at it's best which should spark an even greater rivalry due to the additions of Steve Nash, and Dwight Howard for LA. The last time these two teams did battle OKC came out on top with some great performances from the core three of Durant, Westbrook, and Harden. However things have changed over the summer, and I'm excited to see how things go with this one.
Number 4: Boston Celtics vs Miami Heat (Oct. 30th)- I've come to the conclusion that this may turn out to be the best rivalry in our Basketball generation pretty soon. When the Heat big three first formed they had one common goal to begin with "Beat the Celtics". They have done that in the playoffs now, twice! Still the Celtics have given the Heat more problems than any other team in the NBA. Now to add even more fuel to the fire the Heat signed the NBA's most prolific shooter, and ex-Celtic Ray Allen this off season. Lebron, Rondo, D Wade, KG, Ray Allen (in a Heat uniform) and so on... what more can you ask for as an NBA fan? When these two face on opening night this rematch of last season's Eastern Conference Finals should make for great TV, and an even greater match-up.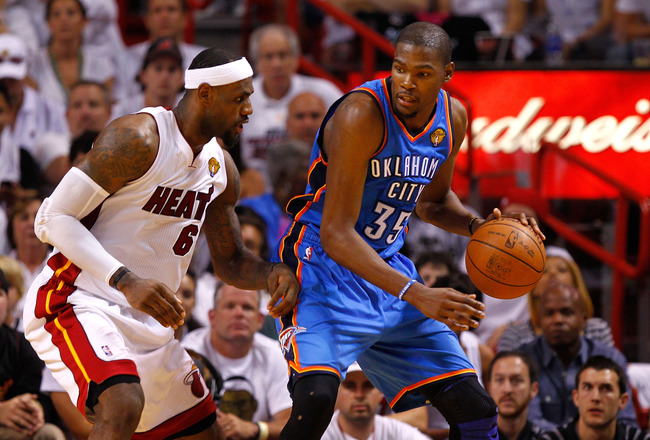 Number 3: Oklahoma City Thunder vs Miami Heat (Dec. 25th, NBA Finals?)- This highly coveted rematch of the NBA Finals is the NBA's gift to us. No seriously it is, this year's Christmas Game is this heavy weight bout. I really shouldn't have to give reasons to why this game is one of the most anticipated. Of all the on the court match-ups not one of them is bigger than LBJ vs KD! Should be the best gift we all receive this year. Plus, we just might see these teams clash in June again if things go their way.
Number 2: New York Knicks vs Brooklyn Nets (Nov. 1st)- This game has the most hype going into the openers of the NBA season. However the end result will surely spark debate in the Big Apple. The Knicks have been the talk of the town in NY for as long as we can remember, and now that is all in question with the arrival of the brand new Brooklyn Nets. Not only will this game capture big time ratings, but the on the court action should be just as big. Stars such as Carmelo Anthony, Deron Williams, Amare Stoudemire, and Joe Johnson all on the same court is a treat for fans. Let the battle for NY begin!
Number 1: Los Angeles Lakers vs Miami Heat (Feb 10th, NBA Finals?)- Yes the most anticipated match-up of the 2012-13 NBA season is the power house clash between the defending champions the Miami Heat, and the Los Angeles Lakers. Both teams have made big time additions this off season to keep them in the title hunt especially LA. What it comes down to that most fans (myself included) ask is do we see this match-up the Finals? Regular season match-ups are fine, but this will be one of the most highly coveted match-ups if these two teams do battle in the grand stage known as the NBA Finals. We've all been waiting for a championship version of Kobe vs Lebron for a pretty long time now, and with the supporting cast they have it wouldn't hurt to see this come June.
Thanks for reading my top 10 most anticipated games for the 2012-13 NBA Season. If you want to share games you feel were missed on or if you want to tell us which game your most excited for comment below or tweet us at @first_tensports