The match up everyone wants starts Tuesday, Heat vs Thunder
The Miami Heat for the second time in 2 years, have reached the grand spectacle known as the NBA Finals. The big three combined for 28 fourth quarter points to close out the Boston Celtics 101-88, in an emotional game 7 of the Eastern Conference Finals. Lebron James was spectacular going for 31 points, and 12 rebounds. Dwyane Wade made a late game surge finishing with 23 points, 6 rebounds, and 6 assists. However the star of last nights victory was Chris Bosh who put up a stat line of 19 points, and 8 rebounds. Bosh hit clutch shots, including three 3 pointers (3-4 from three). With the role players, and the big three all stepping up it was a total team win. Now the bigger battle awaits.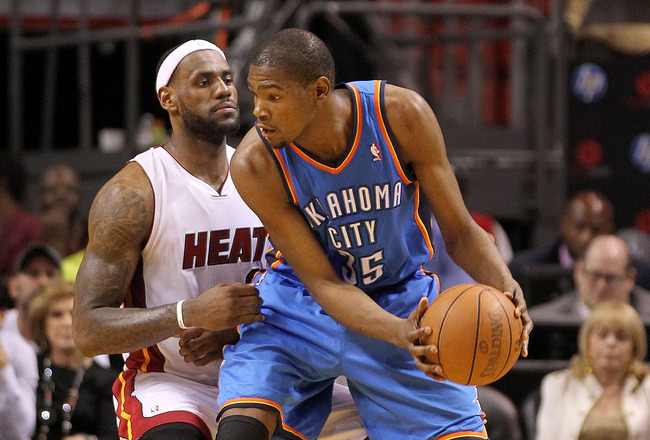 Now the Finals match up is set, and the basketball gods have blessed us. OKC vs Miami is what many NBA fans wanted, and it has it's array of individual match ups that will surely have NBA experts, and fans drooling. This years MVP in Lebron James, and the scoring champion Kevin Durant will give us one of the greatest battles yet. Dwyane Wade and Russell Westbrook will put on display an epic guard battle. The battle of the big men in Serge Ibaka and Chris Bosh will also be a crucial match up. Plus who will be able to guard James Harden ? All these different factors will build up to what many people believe will be the most coveted finals in recent years.
Coveted ? Maybe, but for sure it will be host to two of the most explosive and talented teams in the past 3 or 4 years. That combined with the star power, and riveting headlines will provide NBA fans across the globe with must watch TV. Another crucial factor going into the finals will be the impacted legacies. Will the young Thunder start their run to becoming a dynasty ? Or will a second chance at winning it all prove to be enough for the Heat ? With a finals victory Kevin Durant will most likely slide in to being the best player in the world. On the other hand if Lebron is to capture that elusive title, he silences his critics and stays on top.
The NBA finals will be great, and when I say the basketball gods have blessed us I mean it. This is the start of what may be a great rivalry, and could be what we will see for years to come. Until then all we can do is imagine, and predict. Next week however, predictions go out the window and all the questions are answered on the court.
Game 1 of the NBA Finals is Tuesday at 9 pm, On ABC