LeBron James coming off of another title win continues to be the very best in the NBA. His sensational run is comprable to only one man...Michael Jordan.
With the 2013-14 NBA season drawing even closer one thing remains the same above all the headlines that dominate the NBA: LeBron James towers above any other player. It's quite amazing isn't it that one man could be so far ahead of the pack that it's almost to good to be true. For some (maybe most) denial kicks in, past failures are brought up, and even the thought of others being as good start to creep up in the minds of doubters (Durant, D.Rose...Kobe still?). However this isn't new, most of us who can remember far back witnessed one man dominate the NBA at such an elite level that no one else really stacked up.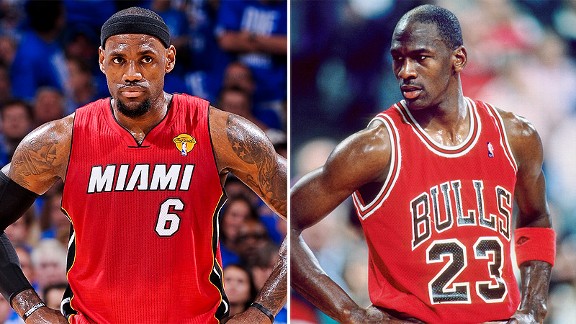 Michael Jordan was by far the very best the NBA had to offer during the prime of his career. That's it...there was no one else that stood a chance at dethrowning MJ from the number 1 spot. He was simply better than everyone else, and he'd go out on the court every October-June to prove it. LeBron James is in full stride of his prime wave, and it's clear we are witnessing dominance comparable to "His Airness" himself.
Now I know what you must be thinking: "What about Kobe Bryant?". No I haven't forgotten about the 5-time NBA champion, and his reign atop of the NBA not so long ago. Bryant in his prime was sensational (still has the talent) and there is no mistaking that. During that stretch he had his best season in 2005-06 where he posted a stat line of: 35.4 ppg, 4.5 ast, 5.3 rebs, .450 FG% (.347 3PT%), & a PER of 28.11. However Bryant early on in his prime did benefit from having perhaps a bigger star than himself in future HOFer Shaquille O'neal (who wouldn't?), and in those title wins they both fought so hard for Shaq would be the one to win Finals MVP in all three (Also NBA Reg. Season MVP in 2000). Bryant didn't win his first MVP until the 2007-08 season, and before that an abundance of other players would win the honor.
In Bryant's best season as a pro LeBron in one less game kept up with him. That's astounding considering it was only James's 3rd season as a pro where he would post a stat line of: 31.4 ppg, 6.6 ast, 7.0 rebs, .480 FG% (.335 3PT%), & a per of 28.17 (higher than Bryant's). Neither Bryant or James would win the MVP award that year as it would go to Steve Nash. Despite Kobe being the "alpha dog" LeBron was the thorn in his side which can't really be said for any of the players following James at this point. Head to head match ups would go in LeBron's favor in the reg. season as he continues to own that battle vs Bryant with a record of 13-6 (19 games).
As LeBron looks to build on his succcess, and on his position at the top the accomplishments are beyond impressive: Over 21,000 Career points going into his 11th season (the youngest at this point), 4 NBA MVPs (6 is the highest number in NBA history), 2 straight NBA Championships & Finals MVPs, 3 straight NBA Finals appearances, and at this point garners the second highest career Player Efficiency Rating in NBA history w/ 27.65 (second to Michael Jordan w/ 29.91).
Combine those factors with his continued improvement as a player every year shooting over .500% from the field for the 4th straight season last year, shooting over .400% from 3-PT land for the first time, and all while maintaining a balanced stat line that shows his impact in all areas of the game. LeBron is on a mission "Become the greatest of all time" a sentiment he has made clear so far this preseason. As he's said James watches MJ's game tapes, and he understands the path he took to reach the historic position Jordan still holds today (and forever).
Still many question whether the level of play we've seen from LeBron is comparable to that of the consensus G.O.A.T. A question that many tend to answer with what they want to be the right answer, instead of looking up the facts. One of the elite characteristics of MJ was his playoff clutch ability. Jordan was money in those situations, and despite the fans clamoring that it has been Kobe Bryant who has mostly shared this trait with the great one that seems not to be the case.
For their careers in Game go ahead or game tying shots in the 4th OTR or OT, within the last 24 secs of the game: Michael Jordan shot 9-18 (50%), LeBron James 7-17 (41.2%), and Kobe Bryant checks in at a surprising 5-28 (25%). Does this stat not put to rest your doubts of LeBron's clutchness? Let's add on to the pressure: in Game go ahead or game tying shots in the 4th QTR or OT, within the last 10 secs of the game: Michael Jordan again rules that stat going 7-15 (47%), LeBron 6-14 (43%), and Kobe Bryant 5-22 (23%). *All Statistics provided by ESPN Stats & Info
Perception has been a smoke screen for the last several years. The crutch on LeBron's game has been his ability to get it done in the clutch during the post season. That's what really matters in this sport, arguably any sport for that matter. And we've been wrong...LeBron since entering the league is not only the most efficient player in those post season moments, but he also has more shots made than any other player since his arrival to the NBA. MJ had it, Kobe apparently has struggled with it, and LeBron has a chance to maybe double the "clutch numbers" those two put up in the playoffs.
James certainly has the tools to make the MJ topic a deep, riveting, and long conversation when it's all said and done in his career. And many important people to the game of basketball (more important than myself) agree such as HOFer Magic Johnson who told James after his recent championship win he was the only player he's seen that could challenge MJ's spot. However LeBron still has work to do, and as he continues on his path to all time greatness just remember to appreciate each season at a time. And it all starts October 29th as the King begins his 2013-14 NBA campaign, and sets his sights on ring number 3.