Hakeem Nicks will be a game time decision headed into the NFC Championship rematch vs the 49ers. There are other health statuses as well.
With a big match up against the San Franciso 49ers coming up this Sunday (Fox, 4:25pm) the health concerns for wide receiver Hakeem Nicks is priority numero uno for the New York Giants. Nicks has missed the last three games due to pain in his surgically repaired foot, and the swelling in his knee. In his last game, through the pain he still managed to finish with 10 receptions, 199 yards, and a touchdown against the Tampa Bay Buccaneers.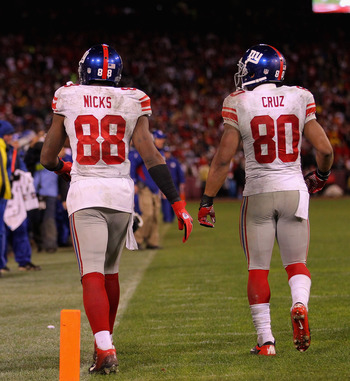 There has been good news for Nicks, and Big Blue Nation for he has participated in two practices this week (limited), and the Saturday walk through without any setbacks. He has even made the team flight for this weeks game. On his injury concerns Nicks was clear on where he stood for this week, saying "I would like to see what the coaches are going to say about it in the morning [on Sunday] and what the trainers are going to say, but I think I've got a pretty good shot,". Nicks a game time decision, will be the biggest x-factor going into the game against the 49ers due to his presence alone. Last time these two teams faced due to his ability to beat single man coverage he gained a lot of attention (double coverage, safety help) from the 49er secondary. Because of that fellow receiver Victor Cruz abused the single man coverage he faced from pro-bowl corner Carol Rodgers, finishing with 10 receptions and 142 yards.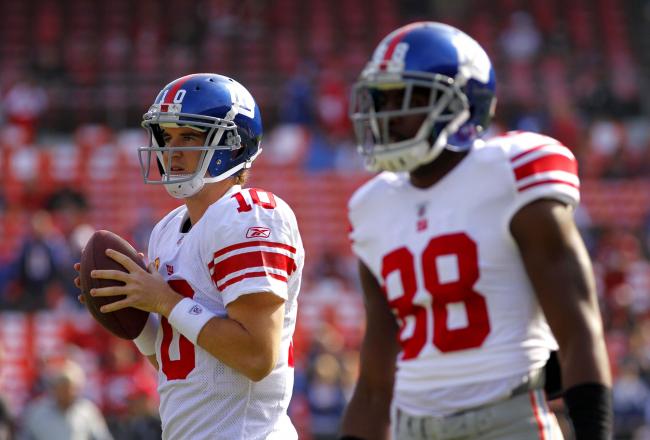 This is a big deal for quarterback Eli Manning who if all goes well, will have both of his pro-bowl receivers on the field at the same time since September 16th. That's very key especially against arguably the NFL's best defense. Other health statuses going into this game consist of tackle David Deihl who has also been out since Sept. 16th (MCL sprain), and corner Corey Webster (Hamstring/Hand) who both made the team flight and are listed as questionable. If Deihl can return for the Giants offensive line that will surely be great for the passing attack, if you can remember last season in the NFC championship game Eli Manning was sacked 6 times. And dealing with the likes of Justin Smith, and Aldon Smith will be a handful for the offensive line. So the passing attack, and protection schemes against the vaunted 49er defense is one of the main priorities for this game.
The players who were listed as inactive, and did not make the trip for this Sunday are running back Andre Brown (concussion), defensive tackle Rocky Bernard (quad), and safety Kenny Philips (knee).
1st and 10 will be keeping a close eye on the statuses of Nicks, and the other questionable players leading up to the game. The New York Giants (3-2), and the San Francisco 49ers (4-1) kickoff at 4:25 pm. Only on FOX.