Clinching the 3rd richest contract in MLB history for his client Robinson Cano, Jay-Z may only be at phase one with his run in the sports agency world.
Many questioned the pull rapper, icon, and business man Jay-Z would have in the field of athlete representation. In fact one could guarantee no one saw, or believed in the deal Mr.Carter would close for his client former Yankees superstar Robinson Cano now the $240 million dollar man of the Seattle Mariners. In case you live under a rock I assure you the figure in that last sentence was correct, $240 million large. Cano's contract goes down in sports history as the 3rd largest, and it's one that has come with a great deal of criticism.
However there were some important factors that helped Jay-Z along the way to go with his negotiating. 1st & 10 MLB and NFL writer Seth Guttman touched on those factors: "I really thought he was going to have unrealistic expectations when it first was reported that Cano was looking for 10 years $305M. I wasn't sure if Jay-Z was going to underestimate the intelligence of team executives and thought he had more leverage than they actually did." And Seth is right, we all thought to ourselves how could the rookie out smart executives? But they panicked as Seth would later point out, and that panicking helped lead to Cano's historic deal.
So what does that all mean for Jay-Z, and his career as a sports agent? It means it may not look pretty in the media reports at first, but the man can get you your money. And with an already impressive collection of marketable athletes using his services such as Cano, Kevin Durant, Victor Cruz, and Geno Smith (Pre-NFL Season...don't blame Jay) there's no reason not to think more will come. So with that said here's a list of rising stars that may find themselves aligned with Roc Nation Sports: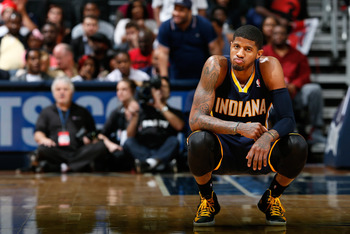 NBA's Rising Stars: An argument can be made that Paul George is leading the pack of future NBA super stars this season. Along with other rising stars such as Kyrie Irving, Damian Lillard, and John Wall the NBA future is looking bright with each sensational performance that goes down.
With that said many of these young players while looking to make a name for themselves are notable Jay-Z fans, and look up to players such as LeBron James (One of Jay's closest friends) and Kevin Durant the premiere athlete of Roc Nation Sports. Two huge factors that could help Mr.Carter attract one of these future faces of the NBA.
Puig: If you've listened to the 1st & 10 Sports show during the MLB playoffs, and probably well into the MLB regular season you heard my personal campaign for the celebration of Yasiel Puig. The guy has super star written all over him, and his actions on the field (liked or not) confirmed he's just waiting to be the most marketable MLB player in a long time. As I've said jokingly, but with all the conviction in the world we may see "Puig-O's" dominating the breakfast cereal lane in a few years.
With all of that said Puig like the other MLB stars in waiting saw what Jay-Z did for Robinson Cano (and how Seattle panicked), and there's no reason to believe he won't think about joining if approached by Roc Nation Sports. Like my colleague Seth Guttman has once said to me before "Someone is always willing to pay" as he referenced the Mariners big pay out. Puig knows this, and there's no reason to think he won't consider joining up to get his $240 million dollar chance.
Johnny Football: Perhaps the most sensational athlete to watch on Saturdays Johnny Manziel the 2012 Heisman Trophy winner has a chance to be a very marketable, watched, and sought after player at the next level. If he does leave Texas A&M after his sophomore season, and plays on Sundays no matter where he ends up Manziel is "must see TV".
That's what Roc Nation Sports, and icon Jay-Z are looking for, and with current signee Geno Smith making headlines in New York for all the wrong reasons it could be very fruitful for a relationship to form between Manziel and Shawn Carter.
Johnny Football has all the makings of a super star if all goes well for him, and considering the fact that he's good friends with rapper Drake (someone who considers Jay-Z a mentor) he may turn to Roc Nation Sports to get his super star money down the line.
NBA's Future Stars: I believe I speak for everyone when I say "Can we skip to March please?" due to the talent explosion the NCAA has gone through. Big time basketball talent looks to take center stage when March Madness hits, with players such as Jabari Parker, Andrew Wiggins, Julius Randle, and Marcus Smart. And with most if not all of them probably taking their chances going for the 2014 NBA Draft, basketball fans have big expectations for these young men.
With that said Jay-Z will have a big time chance in snagging one or two of these future NBA stars given the fact that he has a Kevin Durant to gloat about for his agency, and him being best friends with the best player in the game in LeBron James. Let's also not forget that Mr.Carter deserves a lot of credit for bringing the Nets to Brooklyn (still has his share of the Barclays).
Jay-Z's reputation in the NBA as more than just a rapper who sits court side is starting to take flight, and players are taking notice. And with most of these young men growing up listening to his music, and admiring the business man he has become (he's a Business, Man!) the chances of one of them signing with Roc Nation Sports are as good as the other reputable agencies.
In closing the future of sports seems to be in great hands with the new generation of prime time athletes making their way to center stage. Jay-Z will look to build on his agency, and make things harder for the competition who has been in the athlete representation business much longer than he has. Only time will tell if his recent accomplishments in this cut throat industry can help him lure in the best of the best.
What do you think about the Jay-Z's work as a sports agent so far? Is there an athlete I missed that you believe will sign to Roc Nation Sports? Let me know via Twitter: @D3SP4 or @First_TenSports