At the All-Star break, there were 17 teams with a .500 record or better. With the July 31 trade deadline looming, I came up with one realistic player that would improve each of the 17 teams the most as they make their final push for the playoffs.
Baltimore- Cliff Lee, SP, Philadelphia Phillies
Chris Tillman, Wei-Yin Chen, Kevin Gausman, Bud Norris, Miguel Gonzalez and Ubaldo Jimenez have all been serviceable pitchers for Baltimore this year, but the Orioles lack a legitimate ace. Lee will not only provide them with a strong top-of-the-rotation weapon, but, as a lefty, will give their righty-dominated staff some diversity and versatility. The deal would likely have to be centered around top prospect Dylan Bundy, but the Orioles have the pieces to get it done.
Toronto- Jon Niese, SP, New York Mets
Having missed out on Jeff Samardzija, the Blue Jays need to look elsewhere to improve their staff. J.A. Happ and Drew Hutchison simply aren't cutting it right now, and Niese is a reliable lefty who can fit nicely into the third spot in their rotation. A young prospect such as speedy outfielder DJ Davis might be a stretch, but it's something the Mets should strive for in return.
New York- Cole Hamels, SP, Philadelphia Phillies
CC Sabathia and Ivan Nova are out for the year, and there is a chance Masahiro Tanaka and Michael Pineda could be following suit. The second Phillies star pitcher on the block, Hamels would be more than just a rental for the Yanks, and could form a dominant 1-2 punch with Tanaka for the future. The only question is whether or not the Yankees would be willing to part with Dellin Betances, whom the Phillies would undoubtedly be asking for in return.
Detroit- Jimmy Rollins, SS, Philadelphia Phillies
Having recently acquired former Rangers closer Joakim Soria to strengthen the bullpen, the Tigers have one final hole to fill: shortstop. Rollins can still produce, and is a colossal upgrade over Eugenio Suarez and Andrew Romine. Rollins, a four-time gold-glover, is still more than reliable at shortstop, and will provide a further sense of veteran leadership for a club trying to get over the hump and win the world series. It's hard to imagine it would take more than a couple of mid-level prospects to net the 35-year-old.
Kansas City- Seth Smith, OF, San Diego Padres
After moving Headley, trading Smith would mean shipping off more than 25% of San Diego's home runs to date, but they have to get any value they can for their best players. The Royals have a gaping hole in right field and desperately need a power boost, two areas in which Smith can really help. A young, mid-level offensive prospect or two would be a sufficient return for Smith.
Cleveland- David Price, SP, Tampa Bay Rays
Not sure how likely it is that Tampa moves its ace, but Price gives the Indians their only legitimate chance at the postseason. Perhaps the best strikeout pitcher in baseball would give a new dimension to a staff without a proven ace. This trade could only be done if Price confirms he would sign an extension and if the Indians can put together the right package. I would guess Francisco Lindor would be off-limits, so the best Cleveland can really do would be Clint Frazier and Danny Salazar. I'm not sure that's enough, but Cleveland is hoping it is.
Oakland- Aaron Hill, 2B, Arizona Diamondbacks
I know Billy Beane likes his platoon system, but neither Eric Sogard nor Nick Punto are really carrying their weight for even half the at-bats. Hill is one of many pieces the Diamondbacks could move before the trade deadline, and would be a tremendous upgrade at second base. Oakland is unlikely to move another top prospect after sending Addison Russell to Chicago, but they have an abundance of mid-level guys who could be fair game in a trade for Hill.
Los Angeles- Bartolo Colon, SP, New York Mets
If the Angels want to make a serious playoff run, they are going to need a fourth reliable starter behind Jered Weaver, Garrett Richards and C.J. Wilson. Tyler Skaggs, Matt Shoemaker and Hector Santiago are simply not at that point yet. Colon is a seasoned veteran, not to mention a Cy Young winner with the Angels back in 2005. Even at age 41, he is still pitching well, and can take this team to another level come playoff time. An MLB-ready outfielder like Grant Green might be fair value for a year and a half of Colon.
Seattle- Alex Rios, OF, Texas Rangers
Texas is all but out of it, and if they're going to move any one offensive player, it would be potential free agent Alex Rios. He is having a down power year, but he is still getting on base and is an elite fielding outfielder. Seattle desperately needs offensive help if it wants to make a serious push for the playoffs. Rios' biggest contribution to this M's team will be his ability to hit left-handed pitching, a task no outfielder on the Mariners' roster seems to be capable of doing. Texas may be interested in a high-risk/high-reward pitcher like Danny Hultzen.
Atlanta- Emilio Bonifacio, 2B/3B/OF Chicago Cubs
This is a perfect fit for both sides. Surprisingly enough, Bonifacio might not be guaranteed everyday at-bats with the Cubs going forward. With the Braves, he could double-platoon, playing second base (Tommy La Stella) or third base (Chris Johnson) against righties and center field (B.J. Upton) against lefties. I can't imagine the 29-year-old speedster will cost more than a mid-level pitching prospect, perhaps the flame-throwing Carlos Salazar.
Washington- Conor Gillaspie, 3B, Chicago White Sox
Especially with Ryan Zimmerman hurt, but even disregarding the injury, the Nationals can use some infield depth. Washington has basically no holes in their depth chart, so a small move like this makes sense. Gillaspie doesn't have much power, but he has a knack for getting on base. He would fill in for Zimmerman for the time being, and work as a bench player the rest of the way. Gillaspie is not a player that would that would require a large return.
Milwaukee- Joaquin Benoit, RP, San Diego Padres
Don't be surprised if the Padres continue their fire-sale and move newly appointed closer Joaquin Benoit. He has a sub-2.00 ERA, and Milwaukee can use some bullpen help. He likely won't overtake Frankie Rodriguez as the closer, but he will definitely help in a bullpen with only four guys with at least 15 innings as a reliever. Benoit will likely demand even less than the package the Padres got for Huston Street, which was made up of three mid-level prospects.
St. Louis- Troy Tulowitzki, SS, Colorado Rockies
With so many contending teams focusing on the starting pitching market, the Cards can swoop in and grab one of the two best hitters linked to the trade deadline: Troy Tulowitzki and Adrian Beltre. The Cardinals' struggling bats such as Allen Craig and Matt Holliday might come alive with the addition of Tulo taking some of the pressure off of them. The package would probably have to include budding superstar Oscar Taveras and maybe Kolten Wong, but it's Troy Tulowitzki we're talking about. The Troy Tulowitzki that has 21 home runs and a .340/.432/.603 triple slash line. Even with the thigh injury, you do what you gotta do.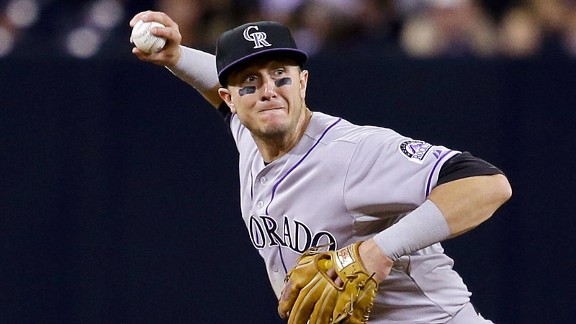 Cincinnati- Ben Zobrist, 2B/SS/OF, Tampa Bay Rays
Despite their injuries and offensive struggles, the Reds remain in contention for a playoff spot. The middle infield in particular has been a concern, and Zobrist can play either of the two spots. He can also fill in for either corner outfielder if their struggles continue. He will, at the very least, provide veteran leadership and versatility to a team that is just missing a couple of pieces. Cincy has a couple of young, talented outfield bats in that farm system that the Rays might ask for.
Pittsburgh- Tony Sipp, RP, Houston Astros
You can never have too many lefty relievers named Tony in one bullpen (Tony Watson). Actually, Watson is the only reliable lefty in that Pirates 'pen, so adding another one should be one of General Manager Neal Huntington's top priorities. I'm not sure there is an affordable starter available that would have much of an impact on this Pirates team. They are in a tough spot, being that they may not have any great starters, but don't have any awful ones, either. Sipp has been dominant all year, and strikes out a ton of batters. He will greatly improve the bullpen, and won't cost a whole lot to acquire.
Los Angeles- Adrian Beltre, 3B, Texas Rangers
David Price would be nice, but I'm not sure they have the pieces to acquire him. The bullpen could use some work, but the power hasn't quite been there all year. Beltre is probably the second best hitter that could potentially be on the market, and would be a huge upgrade over Juan Uribe. Joc Pederson would be the centerpiece in a deal with a Rangers team not accustomed to selling.
San Francisco- Daniel Murphy, 2B, New York Mets
If the Giants want to get back to the World Series, they cannot be in the bottom half of the National League in batting average. Between Brandon Hicks, Marco Scutaro, Joaquin Arias and Joe Panik, San Francisco has gotten next to no production from the second base spot. He is staying true to his career .290 batting average, currently at .288, and although he isn't the lead-off hitter the Giants crave, he will help bolster the top of the order. San Fran has a bunch of mid-level, MLB-ready outfield prospects the Mets might be interested in.